Home ¬ Products ¬ Vertical ladders: Vertical ladder type "T"
TYPE "T" FRP VERTICAL LADDER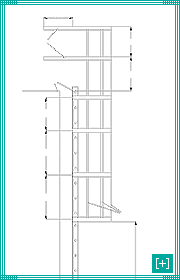 EUROGRATE® vertical ladders are manufactured to meet the requirements of the following standards:
Italian law DPR 547: health and safety at work regulations.
EN ISO/FDIS 14122-4: permanent means of access to machinery - valid in some European countries.
Vertical ladders can be manufactured with or without joints, at any required length.
Technical characteristics of type T vertical ladders:
- FRP uprights in 90 x 35 mm C profile.
- Ergonomic FRP rungs (28 mm diameter) with excellent grip.
- FRP safety cage hoops with a 600 mm diameter (Italian law DPR 457) or 750 mm diameter (EN ISO/FDIS 14122-4).
- 50 x 5 flat FRP profile forming ladder safety cage.
- Pairs of FRP fixing brackets (length = 300 mm) - available in AISI 316 for greater lengths.
- Ladder assembled with no metal parts, safety cage assembled using AISI 316 stainless steel nuts and bolts for the safety cage and pairs of fixing brackets.
- Ladder weight: 5 kg/m
Safety cage weight: 4.5 kg/m
- Colour: white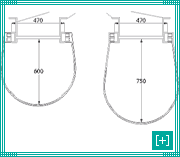 Note:
- Vertical ladders must be placed on the ground or another suitable surface that can support their weight.
- A pair of fixing brackets should be used approximately every 2000 mm.
- The one metre extension of the safety cage (used for both front and side exits), must be fixed to the handrail.
- We retain the right to modify our manufacturing characteristics and the information given in this document without notice.
Ask Eurograte for further technical details or a personalised estimate.
Contact us NOW! Tel. +39 02 950911, send us an email or fill in the online form